This is what a reward tastes like.
After lots of fresh air and exercise, you need a fine meal, a good glass of wine and exciting company. You've earned this reward. Our restaurants Stübli and Stoiva - and not least our Chämi Bar - are the perfect place for this. We cook with fresh and often local ingredients. Sportsmen and gourmets are more than happy and warmly welcome here.
New Years Eve
at Lenzerheide
Celebrate the new year with us. At a kitchen party on Sunday, December 31, 2023 from 7 pm.
With 5 gourmet stations, wine bar, live music and much more.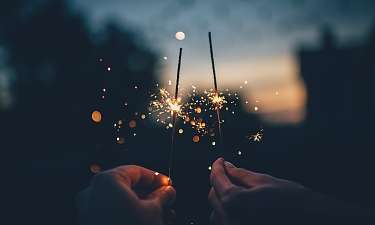 Stübli
Our charming à la carte restaurant is the place for eating well and enjoying being together. Hotel guests and other visitors passing through Lenzerheide are drawn in here – especially if they spot our inviting sunshine terrace as they walk past. Whether you fancy an imaginative snack for lunch or with your aperitif, or a lavish evening meal, you're bound to find something tasty on the menu here: from all kinds of colourful salads and delicious pasta dishes to succulent burgers and a selection of meat and fish dishes. «Come in and stay a while», as they say.
Until 03.12.2023: Thursday to Monday 5.00 p.m. to 10.00 p.m.
(kitchen from 6.00 p.m. to 9.00 p.m.)
From 07.12.2023: Daily 5.00 p.m. to 10.00 p.m.
(kitchen from 6.00 p.m. to 9.00 p.m.)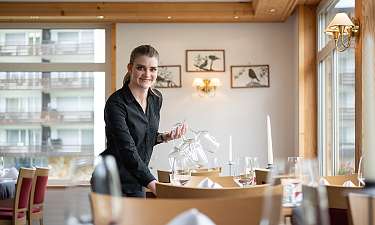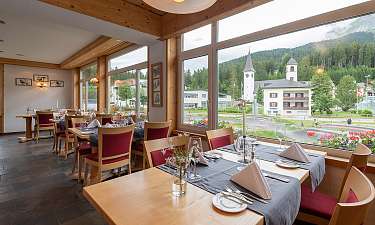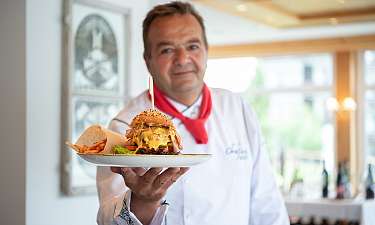 Stoiva
In the Stoiva restaurant, your day starts with a sporty Grisons breakfast buffet. Non-residents are also welcome to come for breakfast. The evening meal menu in the Restaurant Stoiva boasts all kinds of delicacies to round off your day. If you have booked half-board, you can look forward to finding out what 4-course seasonal meals our kitchen team has conjured up today.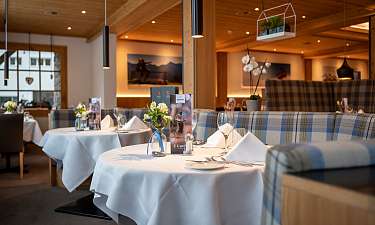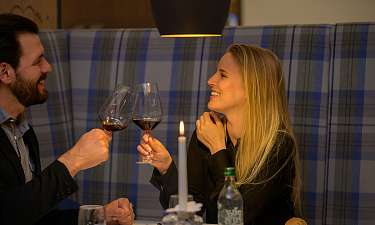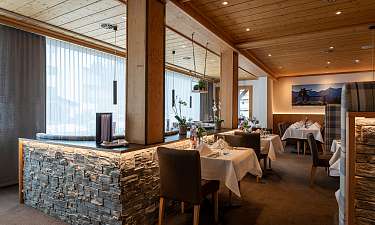 Chämi Bar
A sparkling aperitif before your meal or a nightcap at bed-time – simply the best way to unwind after a busy day. Our homemade cocktails will whet your appetite for a convivial evening meal or round it off perfectly afterwards. And by the way, we also serve our homemade Bündner Röteli (cherry liqueur) in the Chämi Bar and there are often live concerts held there, too.
Until 03.12.2023: Thursday to Monday 5 p.m. to 10 p.m.